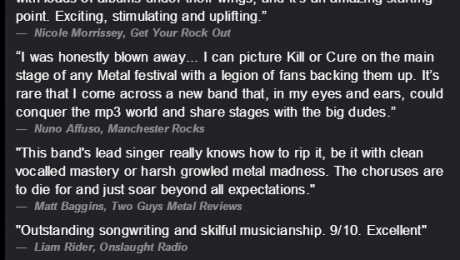 Press release: January 7th 2014
Kill or Cure release their debut album on January 7th. Full of crushing metal anthems, it's a rare mix of groove, aggression and melody, combining powerhouse vocals, technical excellence and razor sharp hooks.
Feedback from the press has been extremely positive with rave reviews across the board, and one reviewer later proclaiming on Twitter that it's the 'best debut album I've ever heard'. Read all the reviews here: http://killorcure.co.uk/press-reviews/
Dan Hepner, guitarist, elaborates: "Kill or Cure are three good friends who do this for a shared love of metal. We're based at opposite ends of the UK, so to make this happen we spend our vacation time together in the studio, writing and recording the best metal we can cook up. There's no record company telling us what to do, so we make the metal we want to hear, and trust our own creative instincts. Now is the right time to unleash Kill or Cure on the outside world and see who shares our vision."
Kill or Cure are currently back recording and have already started work on their follow up album. Dan explains, "Finishing off in the studio is our main priority while we're all fired up – this way we can deliver a one-two punch within a year – but we're also keen to recruit some extra hands so we can gig these songs around the UK."
Listen to Kill or Cure album tracks here: www.killorcure.co.uk/music
Find the Kill or Cure album on itunes, Amazon and all other good digital outlets.
Contact Dan Hepner for press enquiries, interview requests and review copies.
Email: info@killorcure.co.uk
Web: killorcure.co.uk
About Kill or Cure
Kill or Cure's sound is a unique and gripping take on modern metal. The music is a rare mix of groove, aggression and melody, combining technical excellence and musical flair with modern razor sharp hooks.  The trio of band members are based in Manchester and Southend. Due to the geographical divide, Kill or Cure are concentrating on studio work and are currently recording their second album. A live lineup will be recruited for 2014.
Chris Brookes – Vocals. Chris can sing, write, plays many instruments, and produces. They say those that can do, and those that can't teach. Well Chris does that too. He's the swiss army knife of the band.
Dan Hepner – Guitar. Dan grew up playing 70s rock, 80s thrash, 90s grunge and modern downtuned metal – but it could still just be a phase he's going through.
Elena DeJesus – Bass. Len was pressganged into playing bass but started life as a classically trained violinist, sharing the stage with Robert Plant and Pavarotti – although never both at the same time.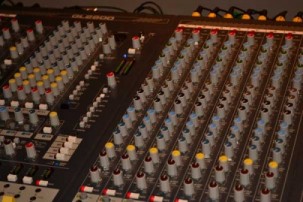 Learn how to get your cover songs:
 streaming online through services such as Spotify
streaming off your own website or social media page
played on commercial and internet radio
played live in music venues
put on YouTube without a copyright infringement notice on your account
distributed via Bandcamp
First of all let me state that I am not a lawyer and do not intend this information to be used as legal advice. I am a musician who, after trawling the web, found it next to impossible to find out how to legally release a cover version, what costs are involved, and how to obtain permission and licenses. This is the situation as I have understood it. I hope it saves you a few hours of research. If you would like to return the favour, please visit Kill or Cure's Facebook page and share and like if you deem it worthy.
The results:
By following my own advice below, my band Kill or Cure were able to release our cover of Infernal's From Paris To Berlin, which you can see here:

First steps – find the composer and publisher
To license a cover version, first find out the composers and publishers of your cover tune. You can use the MCPS PRS database to look this up, or the Harry Fox Agency's Songfile. This information will be required on some forms to get the correct licensing, and on materials you send to radio.
Video & Youtube
There are two options here – many people simply upload their cover tunes to Youtube and hope for the best, but be warned, this is an infringement of copyright. To combat this, Youtube has technology that is able to identify that the music you have uploaded may be an infringement on someone else's original composition. If you acknowledge the third party claim, one of two things will happen: The copyright holder can choose to let the cover version stand and run adverts against your video, and thus profit from it; or they may request it is taken down. This will put a copyright infringement black mark against your account – a few of those, and you will lose your account, so it's a calculated risk. The problem with this method, if you care about your account is you don't know how the publisher will react until you have uploaded your cover. There is a safer alternative – ask the song publisher directly for a video sync licence. The cost will be agreed between you – there is no set price for a sync license.
Streaming Services e.g. Spotify
Streaming services have their own license agreements to stream cover songs, including yours. Therefore if you get yourself played on these services, any payments you receive via your intermediary (e.g. Tunecore or similar) will already have had any monies owed to the publisher/composer deducted.
Commercial radio stations
Like streaming services, radio stations have their own agreements within their licenses to play cover songs. As a band, there is nothing further you need to do, other than make sure the info provided in your CD or MP3 accredits the original composers correctly.
Playing live:
If you are playing in a bar that is licensed to play live music, your cover tunes are covered by their license – no further action is required by the band.
Digital downloads for sale in U.S stores
(via a distributor like Tunecore or CDBaby.) It is your responsibility to pay the royalties to the publisher. However you can use a service like Limelight to do this for you if you buy your licensing through them. See below for further details.
Digital downloads for sale in territories outside the U.S
The situation is different outside the US, You can use a distributor like Tunecore or CDBaby to distribute your downloads to non-US stores such as iTunes in the UK, or Amazon UK – royalties are collected from the store automatically by local performing rights societies e.g. PRS in the UK. Your band never see that portion of the revenue, and neither does your distributor – the digital download provider e.g. Amazon UK pay any royalties owed directly to the local performing rights society, who pay the publisher. Any money you receive for download sales via the distributor has already had the royalties deducted.
Licensing physical CDs, digital downloads, ring tones, and streaming off your own website:
If you are based in the US…
While there are ways to get the correct licensing yourself, perhaps the easiest way to this is through Limelight's song clearance service. Pay Limelight in advance for the number of copies that you estimate you will sell. At the time of press, Limelight's costs are an initial $15 per type of sale (whether CD, download, stream, or ringtone), plus a cost per item that you are paying to cover. If you are close to selling more than the initial amount purchased, you can order more at the same cost per item and a further $7.50 per batch (some volume discounts are available)
Advance royalty costs on top of the service fee are as follows:
Per stream off your music player: $0.01
Per download or CD sale if song is under 5 mins: $0.091
Per download or CD sale if song is 5 minutes in length or longer: $0.0175 per minute or fraction thereof per unit.
Are you based in the UK?
If so, the situation is slightly more complicated. Limelight can still be used to cover your music player streams, digital downloads from US stores and ringtones. However, if you are getting CDs manufactured in the UK, you will need to buy licenses from the local licensors, in this case MCPS/PRS. (if you get them manufactured in the US, I assume you could still use Limelight.)
Are your CDs for promo use only?
i.e. will you be giving them away free to reviewers, broadcasters etc? If so, apply for an AP4 license, at a cost of £0.005p per copy manufactured
Are your CDs for retail sale?
If so apply for the AP2 licence. Costs are 8.5% of Published Dealer Price (PDP), or if unavailable, 6.5% of Retail Price (RP) multiplied by the number of copies manufactured. The AP2 also allows you to create royalty free 25% of the first manufacture for use as promo copies. If this is enough for you, it will negate the need for a separate AP4.
Can I sell my cover on Bandcamp.com?
Bandcamp discourage covers being sold on their site. However, it is possible, if you jump through some legal hoops. On their site they state "You must own or control all rights to everything you upload. That means covers are out, unless you have a written license or authorization from the artist to upload the cover to Bandcamp and grant us the rights in the terms below. Do not upload cover songs unless you have obtained all permissions and authorizations in writing! These requirements apply regardless of whether you're selling the music or giving it away." The terms of use which the publisher must agree to are here: http://bandcamp.com/terms_of_use#upload "
and finally…
I want to give the cover song away for free – do I have to pay for that too?
Yes, whether you are using Youtube, or distributing your own free mp3s or CDs, you will still need to apply the same licensing rules above.
Summary of cover required:
For each cover tune, a UK or US musician will need any or all of the following:
a Limelight license to cover US digital downloads, ringtone and music player streams
if US: a physical CD licence from Limelight to cover copies shipped
if UK: an AP2 license from MCPS/PRS to sell CDs (or an AP4 license if they are for promo only)
a sync license from the publisher to synchronise that song to video from Youtube
a signed written agreement from the publisher in order to sell covers on Bandcamp.
You should be covered without additional licensing in the following situations:
playing covers in live music venues (covered by the venue)
commercial radio (covered by the station)
streaming sites such as Spotify (covered by the site)
digital download stores outside the US (covered by the download store), although I profess not to know every country's arrangements for collecting royalty payments
Once again, this is the fruits of my web research and I do not warrant it to be 100% correct– I hope you find it useful, but if you want expert legal advice I would recommend a legal expert, strangely enough!
Writer: Dan Hepner – Follow Dan on Twitter