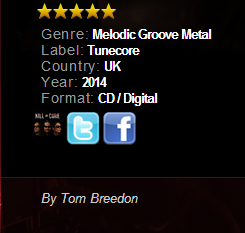 It's full marks for our debut album! Very proud to find out our first official album review is overflowing with great comments about every track. Read what The Metal Review's Tom Breedon has to say here…
http://themetalreview.com/albums/kill-or-cure/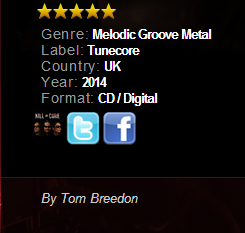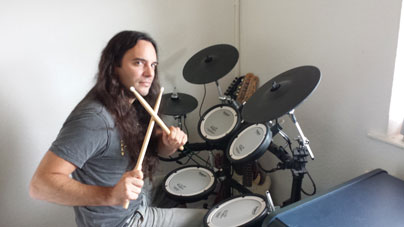 Drums on demand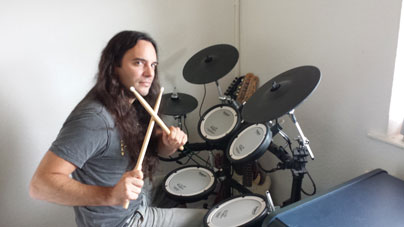 In the last blog I looked at how technology is creeping into the world of the drummer. This time we're going to delve a bit deeper into the advantages of drum technology for drummers and non-drummers alike.
Drummers benefit
Think of the space an acoustic kit takes up. For most people it's not practical to keep a drum set in the house. Unless you have a spare bedroom or an unused garage, you're out of luck. If you want to learnt play you have to rent a rehearsal space to keep the kit in, or wait to play between lessons. Electric kits such as those by Yamaha or Roland take up a lot less space and can fit in the corner of a room without taking it over. Plus with the lower volume and headphones options, they're a lot less likely to have your neighbours issuing cease and desist notices against you while you nail that double kick and cymbal crash pattern – much more conducive to home practice.
As a long-time guitarist , I recently found myself wanting to learn the drum basics to help my songwriting – so I shoved an electric kit in the corner of the smallest bedroom and hey presto – all set to rock, minus the talent and the timing – and even they can be touched up if I record direct into Pro Tools and fix up my mistakes in what I played.
Producers benefit
In the studio, drums are one of the most difficult instruments to record. Not only do they require a large room to set up in with conducive acoustics, they need a multitude of microphones placed on individual drums and around the kit to pick up individual sounds and room ambience – expensive and time consuming. And then there's the mixing required to get a good kit sound – it's an art in itself. After recording and checking the mix, it's likely you'll want to use the original sounds to trigger some replacement samples, especially in the case of the kick drums and snare to get things sounds crisp and meaty enough. And while the vocalists and guitarists have it easy recording overdubs to iron out those little errors, often the producer will insist the drummer nails it in one take as drum overdubs are notoriously tricky to get sounding like a natural fit. Recording drums is either a nightmare or an art – there's no question that drum programs like EZ Drummer and Superior Drummer 2 make it far easy to approximate the sound and mix you are looking for and save a lot of time in the process. What's more, the work can be done anytime, anywhere, on any reasonably specced laptop, reducing studio time and costs.
Home recording musicians benefit
The ability to leave behind the professional drum recording room and work from a fairly modest home or portable setup opens up the doors for talented musicians to get their music out to the masses on an affordable budget. Take the first Kill or Cure album – most if it was done without a drummer or a studio. Just three band members 250 miles apart recording guitars and bass direct into Pro Tools. The drums are programmed in. Only the vocals needed to be recorded outside the confines of our homes. How did it turn out? Well you can here a clip below – you be the judge: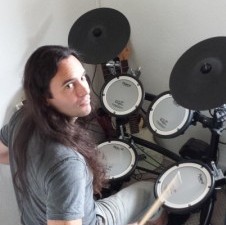 The rise of the drum machines
One day the machines will rebel and take the place of their masters. They will look like you, sound like, you, and feel like you. But they'll be better than you. What the plotlines of Terminator, Battlestar Galactica and countless other sci-fi didn't predict was they'd start by replacing the drummers.
Now please, let's take this seriously – no jokes that they're replicating the simplest lifeforms first . Drumming is harder than it looks. I've tried patting my head and stroking my stomach at the same time and I can tell you it's not that easy, especially when the other train passengers are looking at you funny.
Man or machine?
If you're discovering the latest greatest underground metal phenomenon on Youtube, and they're on a tight budget, there's every chance that's a machine bashing out the beat. Drum machines have come a long way since the tinny timbres that assaulted our ears in the 80's, though. With great software products like Toontrack EZDrummer and Superior Drummer 2, and realistic electric kits by Yamaha and Roland, we've moved from something as lifelike as a blow-up doll to something more like a living, breathing cinema date. Nowadays the best way to tell if you're listening to a drum machine is if the beat sounds too perfect or could only be played by an octopus.
We can rebuild you…
Even when the band does have a drummer in their ranks, for album recordings each original drum hit has usually been replaced or enhanced with a triggered digital sample. Of course this is all in the name of progress – a snare that begins life sounding like a monkey* banging on a biscuit tin can be transformed into the unwavering rhythmic crack of an assault rifle. *No offense to the Cadbury's gorilla, that's one polyrhythmic primate I don't want to cross.
More power to your elbow?
All this sonic sleight of hand can also work against you though. Drum lines have become busier than ever before. Today's metal drummers can beat their kits into submission with relentless double kicks, blast beats, and complicated fills. The trouble is all the other instruments have got busier and more demanding too, and all the instruments are fighting to plant their flag in the same patch of dirt. With the modern metal soundscape getting denser and denser, there's a tendency for the drums to get painted into a smaller corner. Check out the huge drum sounds of any 70s hard rock, from Led Zep to Black Sabbath – they may not be the crispest, but they come across as massive, deep and powerful. You can feel the air move. Too often in modern metal that double bass is reduced to sounding like you're drumming your fingers on a tabletop.
The paradox of perfection
Mixing a song is a tricky balancing act – it only takes one pair of exhausted eardrums for a mix to be unbalanced, and suddenly it's hello guitars, goodbye beat. Let's say the mix is a good one though – all that sampling and replacing can make an album sound very 'cookie cutter'. By our nature, we humans (forgive my assumption if you're not) don't appreciate perfection. Have you ever tried putting a mirror down the middle of your passport photo? When the left side matches the other in absolute symmetry, your brain tells you it's just not right. (Quite literally in this case.) Because we like variation. We like discrepancy. We like individuality. We screen out the dull. We screen out the repetitive. We're screening out this paragraph, aren't we?
So use the technology wisely. It can be an invaluable tool, but like cosmetic surgery, take it too far and you risk losing all that was arresting and original in the first place. If you're programming your own beats, spend some time working some organic feeling into the track. And if your drummer is sloppier than as hell, it won't hurt to tighten them up with a touch of technology… but don't let it take over completely. I'm sure Sarah Connor and Colonel Adama would both agree.
How Kill or Cure use drum programming
In Kill or Cure we're certainly not averse to using the technology. In fact, you can hear programmed drums all over the debut album. But we spent the time working in the dynamics and making sure the drum patterns were natural. Check out the clip of 'Paradox' below to hear them in action.
In my next blog I'll be taking a closer look at the benefits of drum technology. In the meantime, you may want to check out an example of drum programming in action – this is …, a release off our new album ….

Writer: Dan Hepner