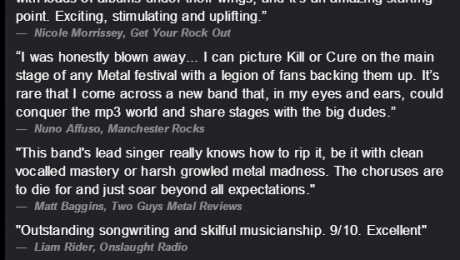 Press release: January 7th 2014
Kill or Cure release their debut album on January 7th. Full of crushing metal anthems, it's a rare mix of groove, aggression and melody, combining powerhouse vocals, technical excellence and razor sharp hooks.
Feedback from the press has been extremely positive with rave reviews across the board, and one reviewer later proclaiming on Twitter that it's the 'best debut album I've ever heard'. Read all the reviews here: http://killorcure.co.uk/press-reviews/
Dan Hepner, guitarist, elaborates: "Kill or Cure are three good friends who do this for a shared love of metal. We're based at opposite ends of the UK, so to make this happen we spend our vacation time together in the studio, writing and recording the best metal we can cook up. There's no record company telling us what to do, so we make the metal we want to hear, and trust our own creative instincts. Now is the right time to unleash Kill or Cure on the outside world and see who shares our vision."
Kill or Cure are currently back recording and have already started work on their follow up album. Dan explains, "Finishing off in the studio is our main priority while we're all fired up – this way we can deliver a one-two punch within a year – but we're also keen to recruit some extra hands so we can gig these songs around the UK."
Listen to Kill or Cure album tracks here: www.killorcure.co.uk/music
Find the Kill or Cure album on itunes, Amazon and all other good digital outlets.
Contact Dan Hepner for press enquiries, interview requests and review copies.
Email: info@killorcure.co.uk
Web: killorcure.co.uk
About Kill or Cure
Kill or Cure's sound is a unique and gripping take on modern metal. The music is a rare mix of groove, aggression and melody, combining technical excellence and musical flair with modern razor sharp hooks.  The trio of band members are based in Manchester and Southend. Due to the geographical divide, Kill or Cure are concentrating on studio work and are currently recording their second album. A live lineup will be recruited for 2014.
Chris Brookes – Vocals. Chris can sing, write, plays many instruments, and produces. They say those that can do, and those that can't teach. Well Chris does that too. He's the swiss army knife of the band.
Dan Hepner – Guitar. Dan grew up playing 70s rock, 80s thrash, 90s grunge and modern downtuned metal – but it could still just be a phase he's going through.
Elena DeJesus – Bass. Len was pressganged into playing bass but started life as a classically trained violinist, sharing the stage with Robert Plant and Pavarotti – although never both at the same time.